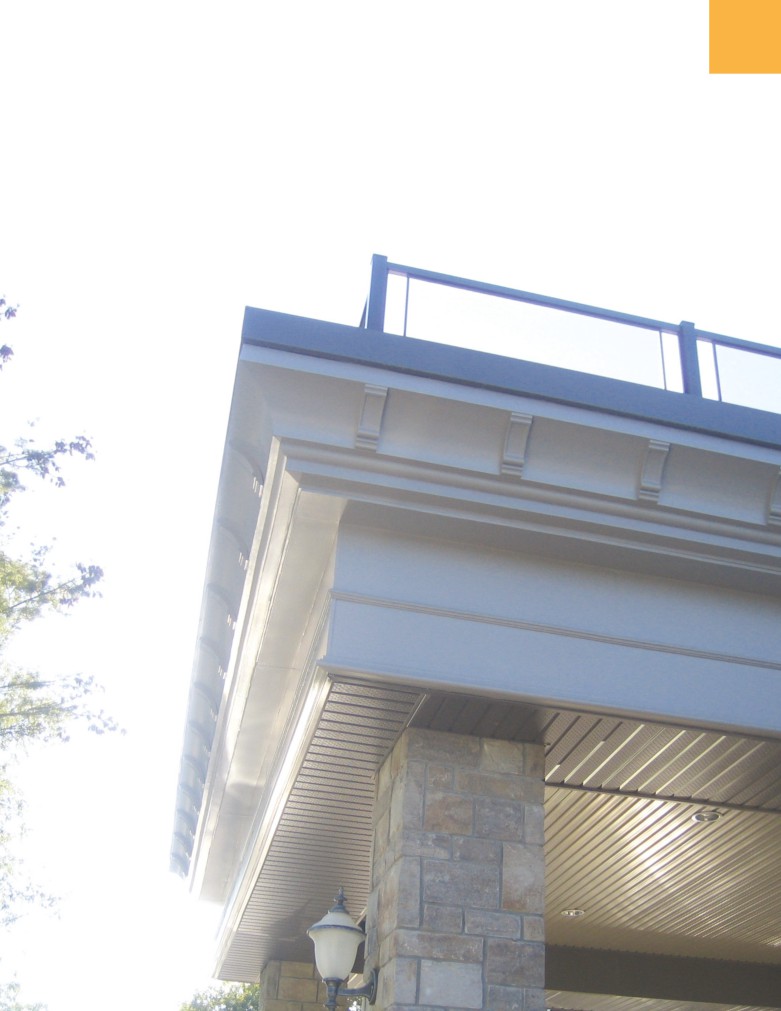 Moulures
intérieures & extérieures
Interior & Exterior
Mouldings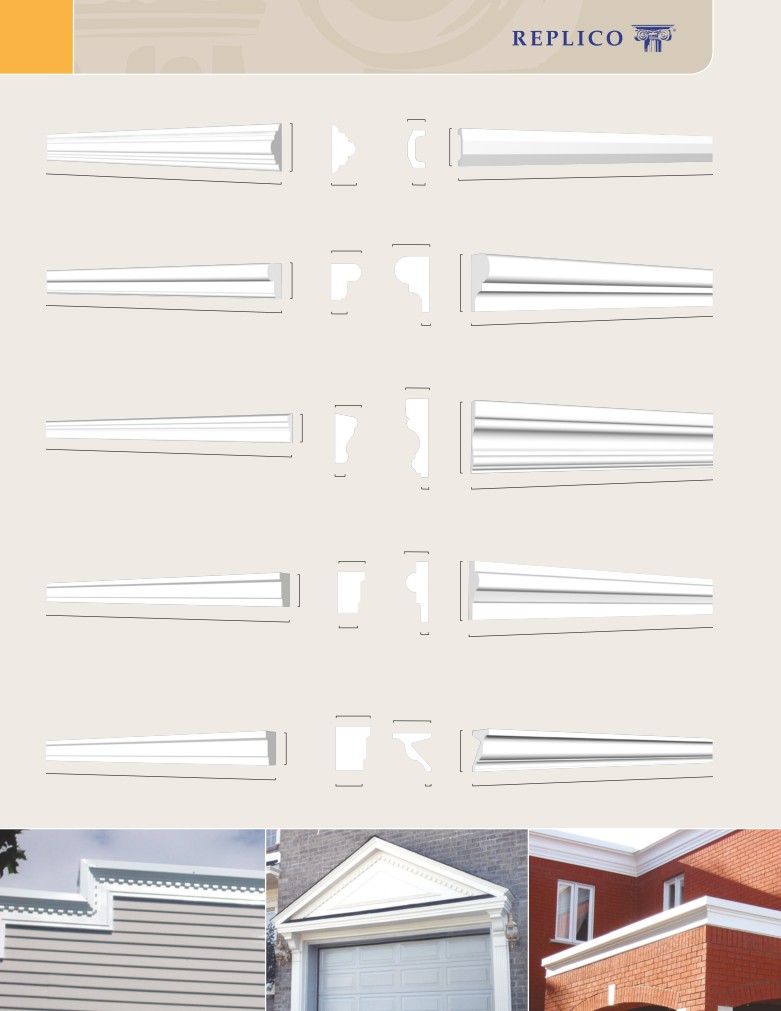 Moulure à brique, dessus non-fini
Brick moulding, unfinished top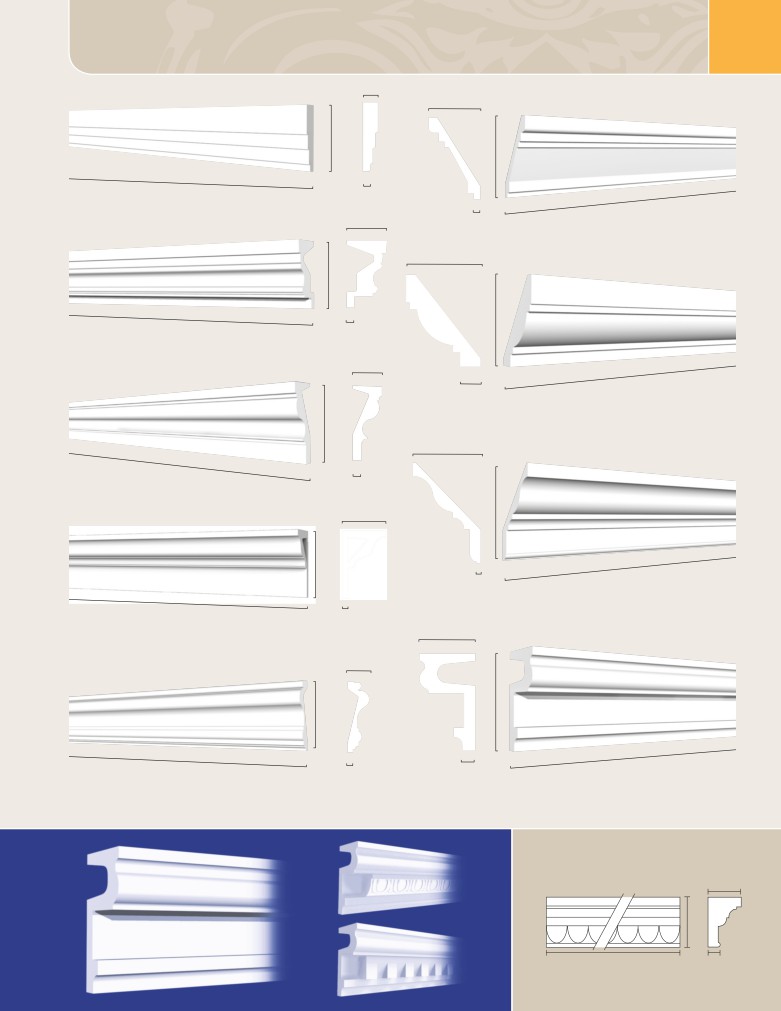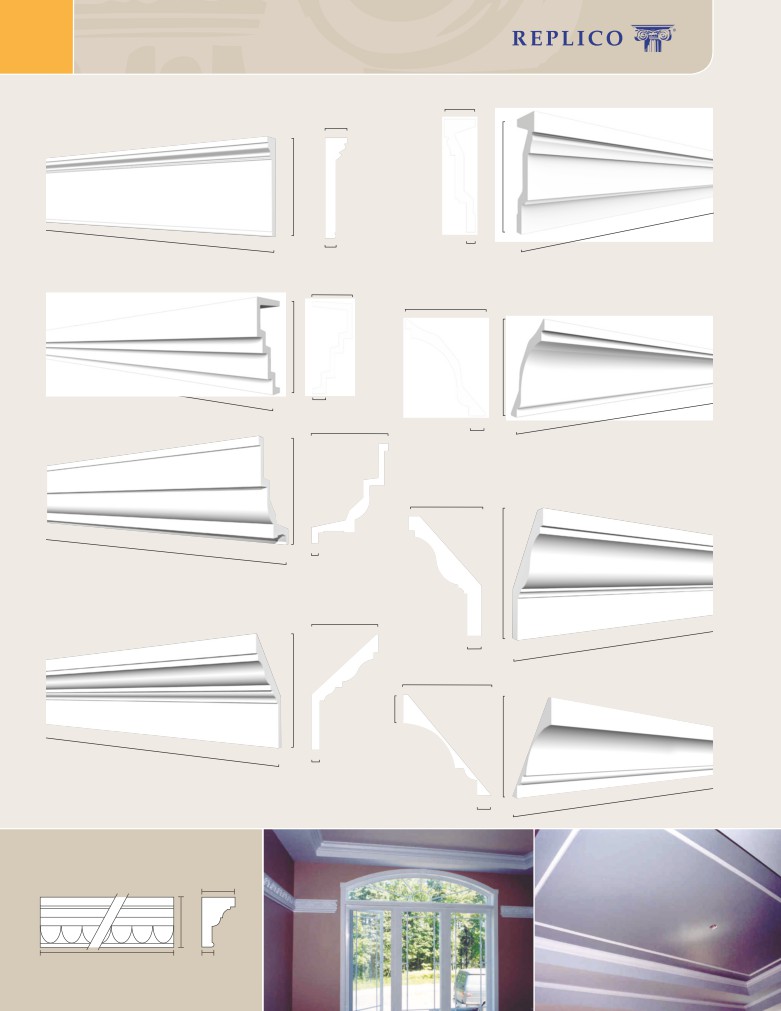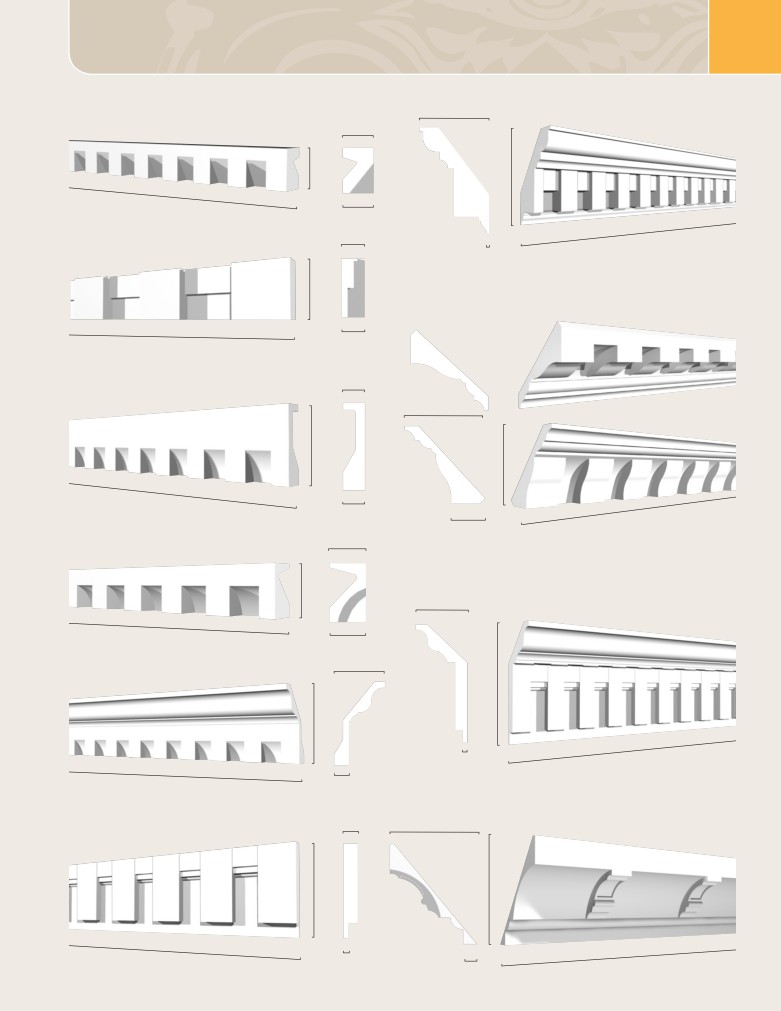 Comprend 1 CE50 et 6 B76C à 16″ c/c (non assemblé)
Contains 1 CE50 and 6 B76C à 16″ c/c (not assembled)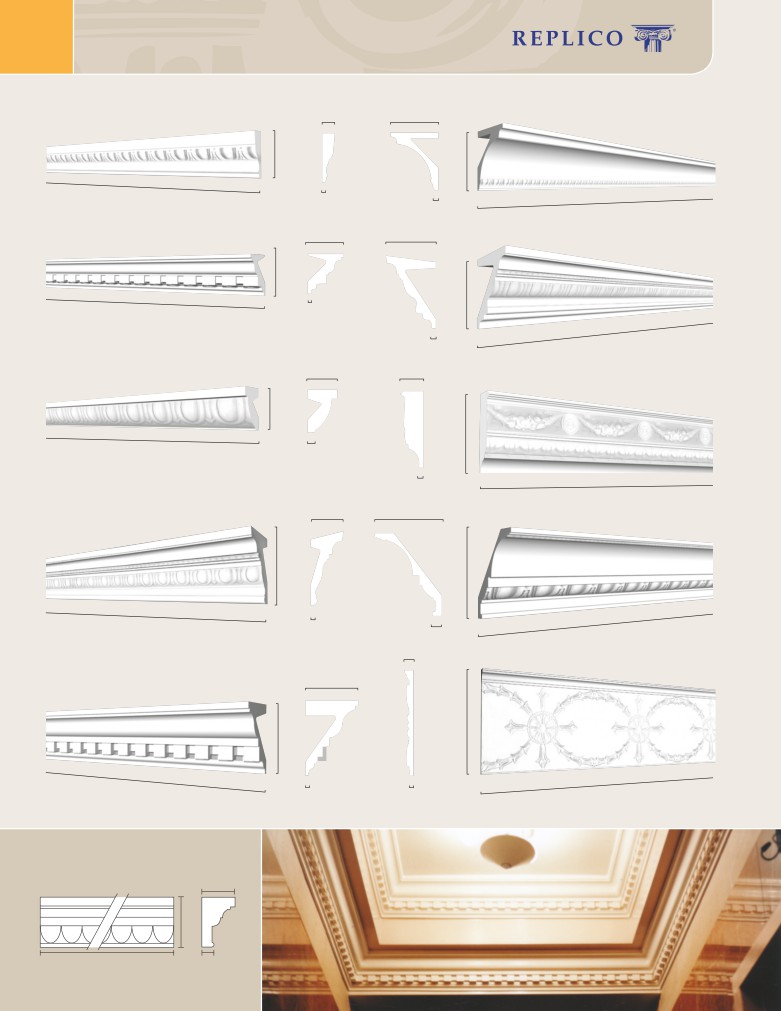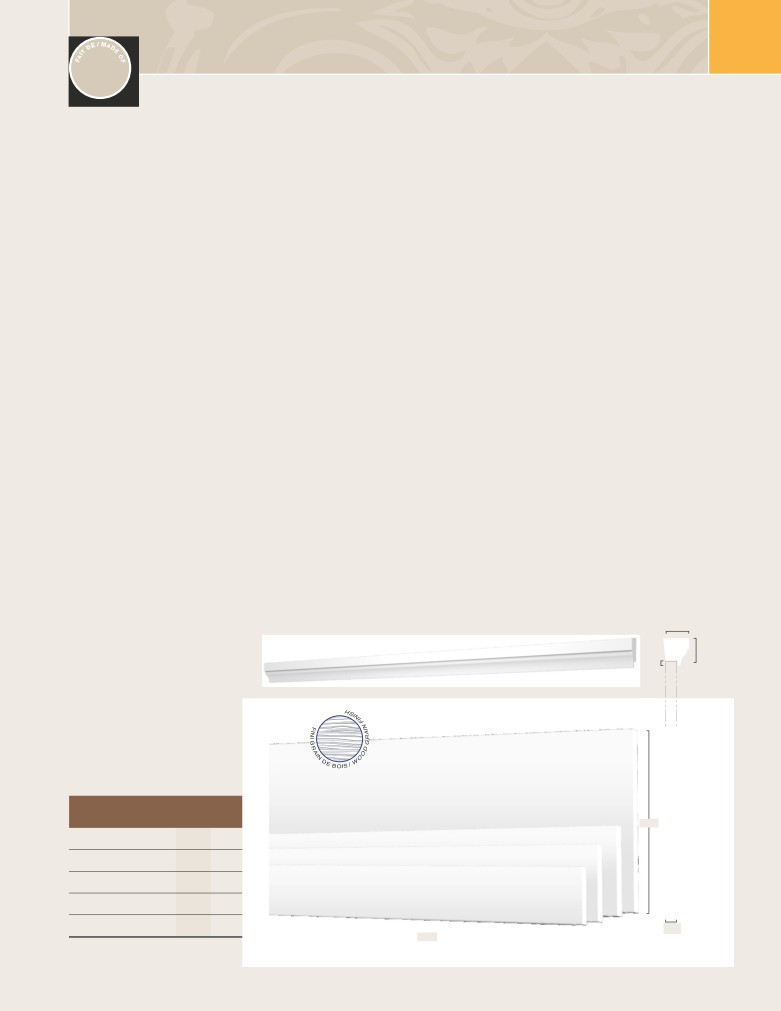 Moulures, lambris et planches de finition en
PVC cellulaire
Mouldings, bead board and finish planks in
Cellular PVC
Le P.V.C. cellulaire est un bon complément au
The cellular PVC is a good complement to
polyuréthane. Nos moulures faites de P.V.C.
polyurethane. Our moldings are made of cellular
cellulaire sont fabriquées à partir d'un procédé
PVC made from an extrusion process to a high
d'extrusion selon de hauts standards de qualité et
standard of quality and offer similar features to
offrent des caractéristiques similaires à celle du
that of polyurethane. As well as polyurethane,
polyuréthane. Ainsi tout comme le polyuréthane,
cellular PVC does not absorb moisture, does
le P.V.C. cellulaire n'absorbe pas l'humidité, ne
not rot, UV-resistant and salt (calcium) in addition
pourrit pas, résiste aux rayons UV et au sel
to having a smooth, hard surface. The Replico
(calcium) en plus d'avoir une surface lisse et dure.
cellular PVC trim are designed to withstand the
Les moulures de P.V.C. cellulaire de Replico sont
outside but can be installed inside.
conçues pour résister à l'extérieur mais peuvent
autant s'installer à l'intérieur.
Our Cellular PVC mouldings are offered with the
manufacturer's VI-GUARD
®
surface finish and
Nos moulures de PVC cellulaire sont offertes avec
can be painted using acrylic latex or oil-based
le fini de surface VI-GUARD
®
et peuvent être
paint. However dark colours are not recom-
peintes avec une peinture acrylique au latex ou à
mended and will void the warranty unless
l'huile si désiré. Toutefois, les couleurs foncées
sont à éviter et annulent la garantie sauf si peint à
Moulure de couronnement 96″
1 face lisse et 1 face grain de bois
1 smooth side and 1 wood grain side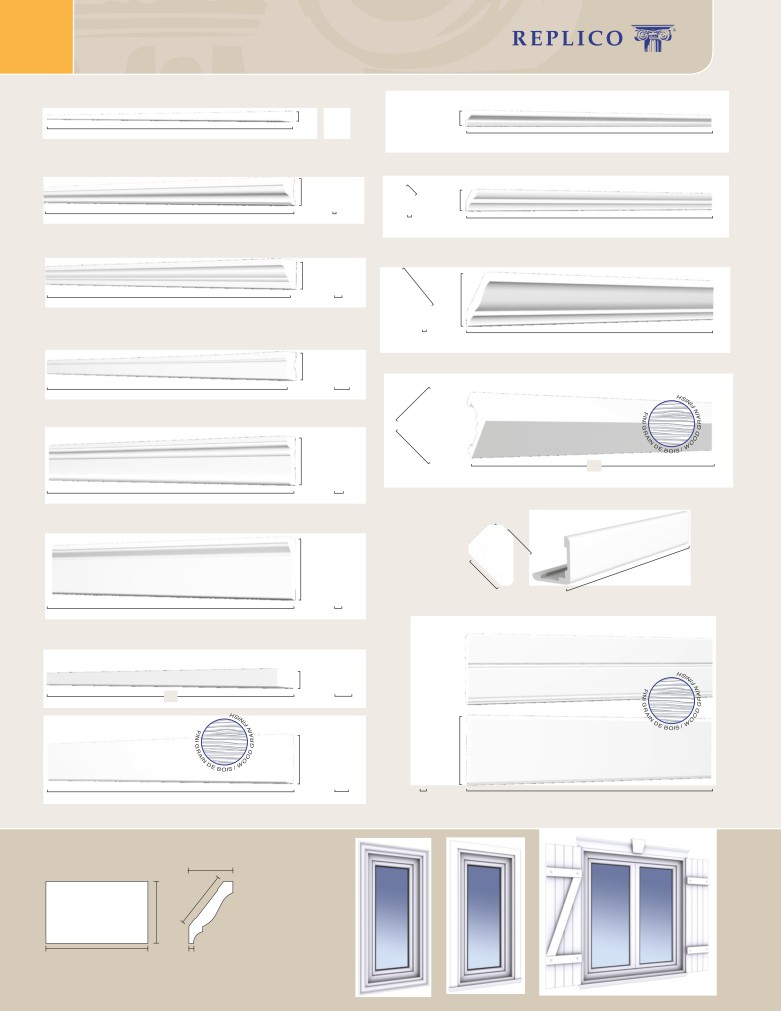 This post is also available in: French